This Barkbox was not as full as they usually are, but there are some pretty good items in here.
American Dog Toys: Fetch & Glow Ball
Arwen was excited to play with this ball, but I managed to get a photo of her with it. It glows in the dark, which will be very useful when she is all riled up at night and I ask, "Where's your toy? Go get your toy" so she stops jumping on me to play with her when I'm trying to sleep.
West Paw: Bumi Toy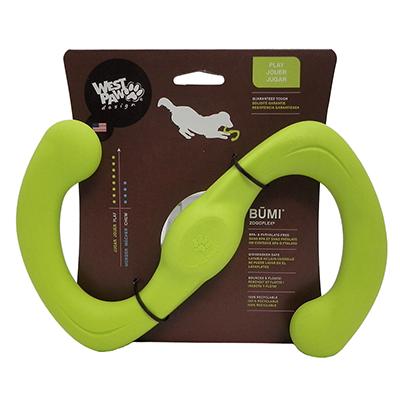 This toy is the perfect shape for playing tug-of-war with a pup. It's also eco-friendly (recyclable!), non-toxic, and locally made. We don't play in the water much, but the description says it floats.
[not pictured, but it's bottom right in my top photo]
Baker's Best Autumn Harvest Goat Liver Treats
Oddly, I couldn't find out where to purchase these treats (or find a stock photo) of them online. I let Arwen try one of these gluten-free treats made with goat liver, oat flour, pumpkin, brown rice flour, ground flaxseed, shredded carrot, dried cranberry, and blackstrap molasses (whew). She really liked it and is jumping on me now to try and get more as I type the ingredients off the bag.
Fruitables share pack
This is an adorable idea and I love that Barkbox included these, but I didn't end up sharing these little doggie Halloween treats at all. The better for Arwen, I suppose, as she gobbles up all the different flavors. I like that these are all-natural and good for dogs with food sensitivities (no corn, wheat, or soy).
[not pictured, but it's the little stick in the top middle of the photo]
Etta Says Rabbit Chew
Again, not found via photo online, but Etta Says treats are usually a hit in our home. Arwen was eagerly sniffing this rabbit chew, but like any other long-term treat, would probably be best with owner supervision.