This blog post may seem silly to most people from these colder climes, but I guarantee this is useful information for people from warmer places (like me). After much trial and error, I have figured out how to appropriately layer for different temperatures. Granted, Chicago's winter thus far has been fairly mild (just cold, not too much snow), so maybe I'll be screwed when the snow/ice really starts to hit. Anyway, this is what I have so far:
Eddie Bauer Northern Aurora Down Jacket in Capri Blue, with my Modcloth owl mittens (gift)
-Eddie Bauer coat (to my waist) with fur-edged hood, guaranteed good for 0-20 degree weather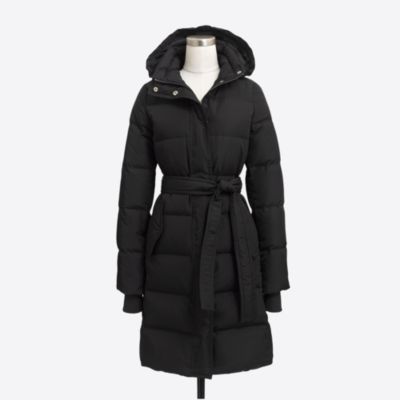 -J. Crew Factory belted puffer coat: I was really opposed to wearing these because I think they look like a black version of the Michelin man, but I see why they are necessary now! The only part of my body that gets cold when I wear this coat is between my boots and my coat...and I have legwarmers now to remedy that.
-CK belted puffer coat: looks similar to above but has fur around the hood. My mom gave this to me for Christmas!
-a bunch of California winter coats (read: not thickly lined, with varying wool weights). Okay, I'll be honest, some of these are cotton. I don't wear those ones much, though...
-long underwear (I don't wear these too often yet, but I have both Cuddl Duds and REI brand. I wore the Cuddl Duds under thick leggings and had no issues getting the layers on or off because they are silk, and they didn't slip and slide around under my clothes)
-down vest that folds up really small into a bag that it comes with (used frequently)
Available on Amazon (men's and women's are exactly the same, except women's come in different girly colors)
-180 earmuffs (that's the brand), which go behind your ears like those erstwhile popular Sony headphones. These are most useful for when I wear glasses or don't feel like wearing a hat (because it seriously feels like your ears will fall off when you're walking around in the cold for extended periods of time)
-a variety of
scarves
hats: knit hats for everyday, a Goorin Bros. wool hat (I wore this last night in the rain and stayed so dry! Only issue is my ears get a little cold, but I could easily put a beanie on under it to fix this), and a variety of warmer hats (including a Russian or Fargo hat for painfully cold days, a knit hat that looks like a deer's face for when I'm sad about the cold)
gloves: leather gloves for fall, North Face gloves for playing in the snow/serious winter (they were around $50 retail at the North Face store on Michigan Ave.), knit gloves with cute patterns for slightly warmer weather or when I know I'll tuck my hands into my pockets often
When we first moved here in August, I went to Nordstrom Rack and bought the down vest. It was seriously the best purchase I've made thus far. It meant I could wear all my existing coats, and added warmth without too much bulk. Best of all, since I was crazy paranoid about freezing to death, I could tuck it (in its convenient bag) into every purse I carried and not have to worry about the temperature dropping too far at night and getting cold! I seriously carried it from the end of August (started getting cold) til I started wearing it every day or using my down coats. That's how nervous this California girl felt about her first real winter.
Anyway, here is the breakdown of my outerwear by temperature:
40-49 degrees: California winter coat, scarf, maybe thin gloves if I'm walking far.
30-39 degrees: down vest under California winter coat, gloves, earmuffs or hat. Closer to 30 and I'll probably bring a scarf along just in case.
20-29 degrees: Luckily, my Eddie Bauer coat told me exactly what temperature at which to wear it! I'll pick one of the below:

Eddie Bauer down coat by itself (sometimes I'll sweat in this, though). Definitely earmuffs or hat, unless I put my hood on. Leather gloves at the lightest (closer to 20 degrees, I'd put on my North Face gloves...or if I think there's a potential to play in the snow!!)
sweater, down vest, California winter coat. The issue with the down vest is that it doesn't have sleeves, so my arms sometimes get cold when those Chicago winds blow up loose sleeves. Thus, you have to wear a cardigan or sweater under the vest! +scarf, hat or earmuffs, and North Face gloves (since the coat itself isn't as warm, I make sure my extremities are).

10-18 degrees: this is damn cold. These are the days I walk outside and mutter an expletive to myself, then pull my hood on and trudge to work, watching for ice.

Eddie Bauer down coat, high boots (very cold legs otherwise!), legwarmers or long underwear (if I'm walking far). Scarf, hat, North Face gloves.
Either puffy coat, scarf, hat, any gloves (these long coats keep most of my body warm and I can tuck my hands into the fleece-lined pockets!)

10 degrees or below: No. Don't go outside. That's not normal. Okay, maybe I haven't experienced this too much yet (ignoring windchill). I haven't yet felt the need to wear my down vest under my down coats, so I think so far I'm okay...and the coldest it has hit when I was outside was -8, I believe.
To be honest, the windchill is what is the worst part--it might actually be in the teens, but it feels WAY COLDER. I still can't wrap my head around what this means, other than it makes me miserable. Also, obviously this is just what I have found helpful, and it might be different for others. I tend to get really hot when I'm moving around a lot, so I'll layer up and prefer to take off layers as I walk. Others prefer just one thick layer so they don't have to worry about the hours it takes to put them all back on.
As a sidenote, I work with children--1-2 year olds. They don't layer quite as much, though I have seen a few children who wear long underwear. Usually they're just in big puffy coats, hats, and mittens when we're running around! Additionally, we don't go out if it's below 32 degrees. This is drastically different from working with children of this age in California, where we were blissfully barefoot and outdoors through most of the "winter."
What do you wear in the winter? Any thoughts from local Chicagoans or people who grew up in cold areas? Was this helpful to anybody moving to colder climes?